Two sister moms with a shared love of the outdoors
RuggaRobe was born out of an idea between two sisters, whose childhoods' involved an old Monza caravan and doing Wainwright Walks throughout the British Isles no matter the weather. We have always relished the outdoors and, like our parents did with us, we have never let the unpredictable British weather take the fun out of the outdoor adventures with our own kids.
As mums to sporty kids we designed these cosy cover ups to keep our little ones warm and dry so nothing holds them back and the car stays clean after the memories have been made. 
Between us, we have five boys who love sports, everything from rugby, football, swimming, hitting the beach and anything that includes mud, dirt or mess! Our boys also love their electronic devices and we are not about to give them an excuse to sit glued to them all weekend long.  Saturday and Sunday mornings have been mostly spent with us shivering away on the sports field side-lines whilst our boys get as muddy as possible.
We'd get the boys back to the car post outdoor fun and just look at them – shivering and wet! We wanted to ensure our boys were able to get dry and warm and, let's be honest, as Mums we also had an ulterior motive – we were desperate to strip them of their muddy clothes before they got inside of our cars.
We proceeded to strip them down to their undies, using ourselves as human changing cubicles, and, with them shivering and moaning, tossed them into the back seat of the car with just a towel wrapped around them (and perhaps a bin bag to protect our poor car seats).
We needed a better solution!
We scoured the market for a suitable changing robe but found that these were either very expensive, too thin or not environmentally friendly or, in many cases, a combination of all these. So we took up the challenge to source eco-friendly fabrics, design and develop our very own rugged change robe that covered all of the necessary key features required of a high quality sports coat and changing robe. 
We wanted a change robe that meant that our children could carry on diving into the sports they love
We believe that RuggaRobe does all this and more.As families, we have been using our RuggaRobes for a whilenow.Theydeliver everything that we could have dreamed of – the kids are warm and dry after sports and the car is clean – and even more than that! Our kids use their robes all of the time – before and during sports if on the side-line, on the beach, at cub camp and even for going to school on cold and wet days. TheBritish weather ensuresthat our RuggaRobes are never put away!  
RuggaRobe are fantastic for adults too
RuggaRobe is not only for kids. Parents and adults also love RuggaRobe as a weatherproof winter robe suitable for their own sporting activities – on land or water – and for watching sports from the pitch-side, whether it be kids in the park or Manchester City v Liverpool in the Premier League – you can now enjoy watching all year round with no distraction … no more standing around moaning and having to do a jig just to keep warm!
Shop Now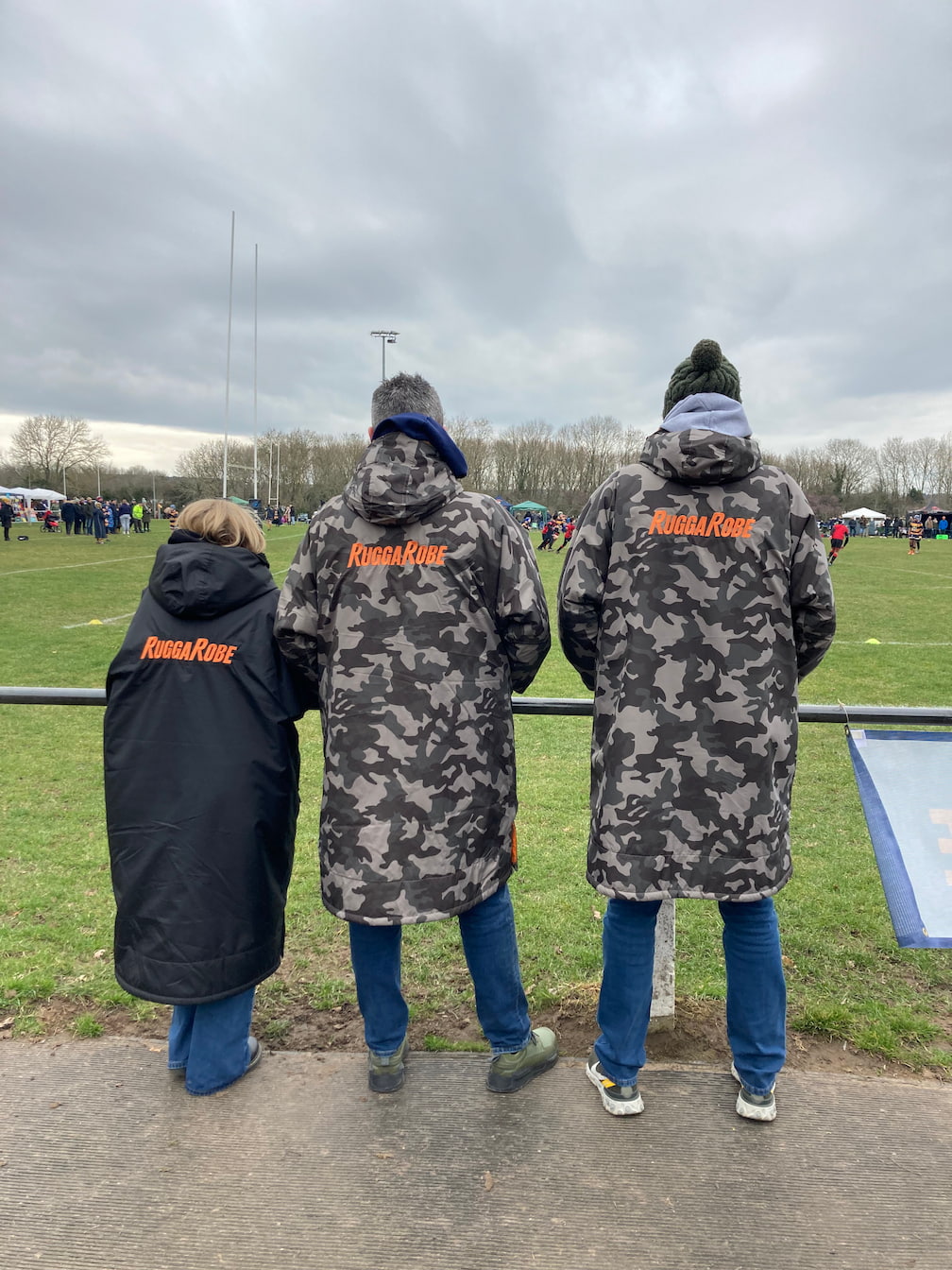 One of our husbands wore his camo robe to Worcester Warriors on a cold Friday evening.
Not only did his RuggaRobe keep him warm and toasty, but he was also told by a young turnstile attendant that he was wearing a "banging" coat.  It's rare that he gets complemented on his fashion sense! 

We have loved introducing the RuggaRobe to people over the past six months or so and have been blown away by the positive feedback! 

Quality of construction, flexibility and price point have all been so positively commented upon and we will continue to build upon this wonderful feedback and improve and innovate RuggaRobe. We are always working on new colours and designs and welcome any comments, feedback or suggestions!
Shop Now